'BLACK POWDER' 9m ULTRA-LOW CAPACITANCE GUITAR CABLE BY SHOOTOUT! UK
From: Shootout Guitar Cables UK • Shootout Guitar Cable Range • 'Black Powder' Guitar Cables
See also: 'Black Powder' 6m Guitar Cable • 'Black Powder' 9m Guitar Cable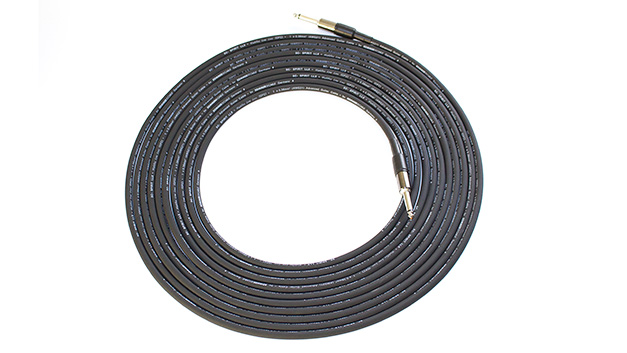 We combine nine metres of Sommer Spirit LLX ultra-low capacitance guitar cable with the best high definition straight through copper core nickel plated* jack plugs by G&H Industries (USA) using lead-halogen-rosin free silver alloy solder by Interflux (Belgium), with added strain relief from glued halogen free heatshrink tubing by Rayshrink (France).
Buy SHOOTOUT! 'Black Powder' Guitar Cables on eBay



Carefully assembled and tested in the UK by SHOOTOUT! This cable is shipped internationally.
'BLACK POWDER' 9m GUITAR CABLE
Recommended for stage use (particularly for use with unbuffered true bypass pedal boards due to the exceptional ultra-low capacitance). Consider the 3 or 6 metre versions for home and studio use, or use a 9 metre for all to fine tune your tone using the same total cable capacitance in all venues by using the same pre-buffer cable length and type for all.
Sommer Spirit LLX 9m Cable:
• Sommer Germany manufacturing specification and tolerances for professional quality
• Ultra-low capacitance (52pF per metre) for excellent frequency transmission
• Total cable component capacitance is therefore approximately 468pF at 9 metres
• Multiple strand oxygen free copper for maximum conductivity, strength and flexibility
• Foam polyethylene insulator for flexibility
• Carbon dielectric shield for low handling noise from tribolectric microphonics
• Braided shielding for effective long lasting interference rejection and tensile strength
• Tough and flexible PVC outer jacket
• Opaque matte black colour


G&H 1/4" Jack Plugs:
• G&H USA
• Unique copper core for maximum conductivity
• Ultimate reliability due to the single copper core that would still work if bent
• Cable outlet hole sized properly for the cable and heat shrink
• Hard wearing nickel plated contacts for signal and shield*
• Gunmetal black barrel to complete the look

UK original equipment manufacture by Shootout Guitar Cables:
• UK assembly with great attention to detail
• Each cable tested before shipment

Buy them online from eBay:

Shootout Guitar Cables UK
* Use lint free cloth and some isopropyl alcohol to clean your nickel plated contacts as required. We do not recommend gold plated guitar cable jack plugs; see Gold Plated Guitar Jack Plugs and Galvanic Corrosion and Guitar Cable Myths and The Cable Fairy for details.