'BLACK POWDER' GUITAR CABLES AND PATCH CABLES BY SHOOTOUT! UK
From: Shootout Guitar Cables UK • Shootout Guitar Cable Range
Quite simply the world's best guitar cable and at a midrange price.
The Sommer (Germany) LLX guitar and instrument cable is an ultra low capacitance cable (the lowest we can find) with braided copper shielding against interference, carbon semiconductor for low microphonics and excellent handling properties with a highly flexible outer jacket and foam PE insulation.
The cable is a little thicker than the Sommer Spirit XXL and it is remarkable that with this in mind, and considering the superior braided type of shielding (rather than spiral) that they have ensured it remains a great handling super flexible cable.
We combine this new cable with the best high definition copper core jack plugs by G&H Industries (USA) using lead-halogen-rosin free silver alloy solder by Interflux (Belgium) for superior conductivity, with added 100% maximally effective glued strain relief from halogen free heatshrink tubing by Rayshrink (France).
Buy SHOOTOUT! 'Black Powder' Straight to Straight Guitar Cables on eBay
Buy SHOOTOUT! 'Black Powder' Straight to Right-Angle Guitar Cables on eBay
Buy SHOOTOUT! 'Black Powder' Guitar Patch Cables on eBay
NEW! Buy SHOOTOUT! 'Black Powder' Guitar Cables and Patch Cables in CUSTOM LENGTHS!


Due to the ultra-low cable capacitance we recommend players who might variously use 3 metre, 6 metre, or 9 metre cables from passive pickup equipped guitar to first buffer to use their longest length in all situations to keep this part of their tone otherwise consistent... one factor less then to consider when going from home, to studio, to stage. Of course this method can be used with any capacitance per foot/metre cable if higher capacitance is preferred, but for those looking for low capacitance as modern guitarists generally do, then the Sommer LLX specification is the lowest on the market that we know of.
This excellent cable is also used for our full size right angle barrel jack plug guitar patch cables in 9 inch, 12 inch snake (opposite way soldered) and ladder (same way soldered) patch cables, and 36 inch snake patch cable for going across a pedal board to a second pedal row. Snakes are for S-shape between left out-top in pedal combos, and to cross pedal rows; ladders are for U-shape left-out to right-in and top-out to top-in pedal combos. This stops twist damaging the cables.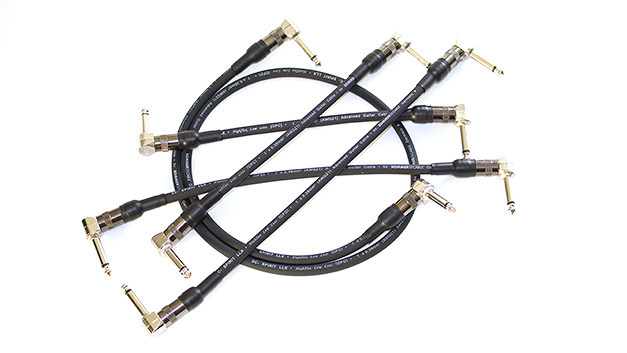 Carefully assembled and tested in the UK by SHOOTOUT!
Our cables are shipped internationally.
'BLACK POWDER' GUITAR CABLES AND PEDAL BOARD PATCH CABLES
Recommended for stage and studio guitar leads, and for pedal board patching where right angle jacks are required. This top of the line ultra-low capacitance cable is especially recommended for long cable combinations and bufferless true-bypass pedal systems.
3m Guitar Cable • 6m Guitar Cable • 9m Guitar Cable
Sommer Spirit LLX Cable:
• Sommer GmbH Germany specification excellence
• Ultra-low capacitance (52pF per metre) for excellent frequency transmission
• Durable double shielding for long lasting interference rejection and low microphonics
• Excellent handling properties
• Opaque matte black outer


G&H 1/4" Jack Plugs:
• USA design and manufacture
• Unique copper core for maximum conductivity and durability
• Cable outlet hole is sized properly for the cable
• Glued heatshrink strain relief applied over both the cable and barrel
• Hard wearing nickel plated plug contacts, the correct specification for pedal and amp sockets
• Gunmetal black barrel to complete the look

UK original equipment manufacture by Shootout Guitar Cables:
• Great care and attention to detail on behalf of our customers
• Each cable tested before shipment
• Halogen free heat shrink applied with glue for the ultimate strain relief and protection
• Lead-halogen-rosin free silver alloy solder for high conductivity and safety

Buy them online from eBay:

Shootout Guitar Cables UK